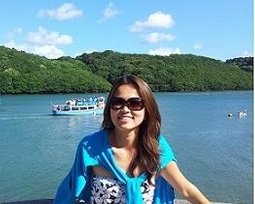 Chin-I Tsai
Chin-I Tsai, or Rita to her friends, was born in Kaohsiung, Taiwan. She and her husband moved back to the UK in 2013 so they could be closer to their family.
Her yoga journey started with Hatha Yoga in 2001. She remembers being overwhelmed during her first yoga class by the numerous poses that just seemed impossible! However, she always felt so relaxed and recharged afterwards. That is why she got hooked on yoga; because it
has given her much more than she expected.
After years of practising different styles of yoga throughout Asia, once she attended an Ashtanga Vinyasa Yoga class in 2008, she knew this was the style that would become her daily practice.
In 2014, Rita completed an RYT-200hrs Yoga Alliance teacher training with Tribe Yoga in Spain. She also completed Prenatal and Postnatal yoga training in 2015, and in 2016 she completed RYT-300hrs advance teacher training in India.
A registered teacher with Yoga Alliance RYT-500hrs teacher has allowed her to share her love of the discipline through the teaching of others.
Rita has studied intensively with some of the most highly regarded teachers in the world and still keeps to her daily Pranayama and Mediation practices. Rita likes to attend different training courses in order to enhance and improve her understanding of yoga.
"Yoga: 99% practice, 1% theory."-Sri K. Patthabi Jois